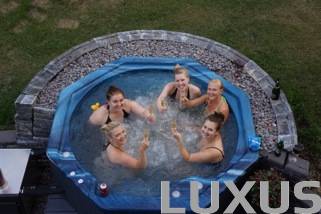 posted jun 15 2014
Eksklusiv hot tub på din terrasse eller i hallen bad !
Et unikt produkt til hele Europa.
8 corner hottub, sizes 2100mm, depth 920mm
height from land 1050mm, water volume 1250l.

Estonian product !
Luxus Hottub produced for :
Exclusive antibacterial layer Lucite acrylic – blue marmor
NEW ! since 20.09.2014 TUSCAN SUN acrylic tone
(this is tone sample – on the picture full equipments spa)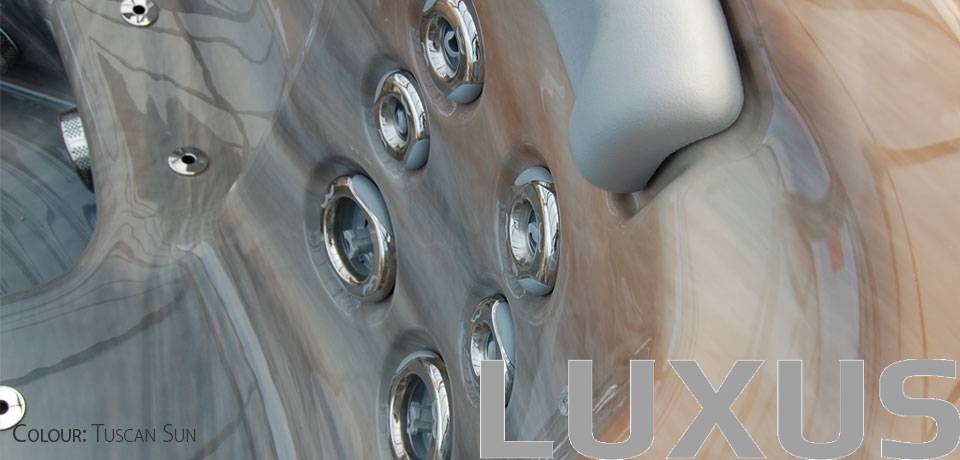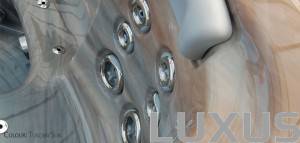 Vacuum thermoformimg – for a vacuum molding valuable antibacterial layer of white Lucite and exclusive tones sanitetic acryl, what is special material for hottubs.
SPA cover – OÜ Luxus manufactured pool cover is until 100mm thick and have a thermal conductivity of a minimal level. Cover to suffer the burden of snow in winter conditions without problems. Cover surface is made ​​of durable PVC, which is suffering from a cold winter -35c and +60c in summer heat, in addition to the cover is a water, ice and mold-resistant material.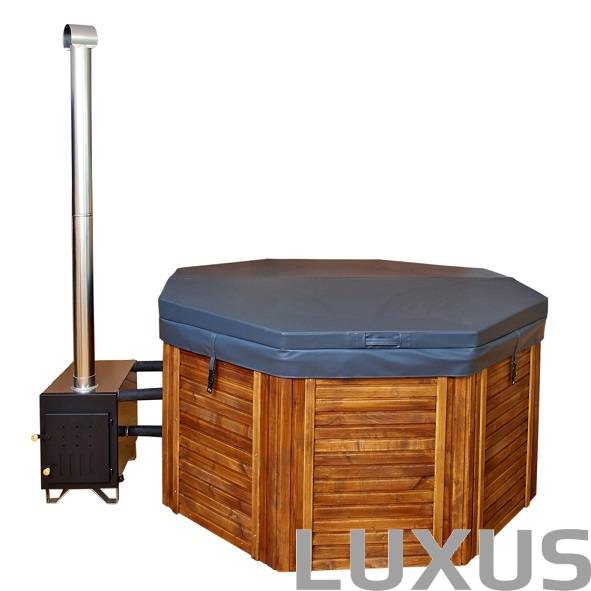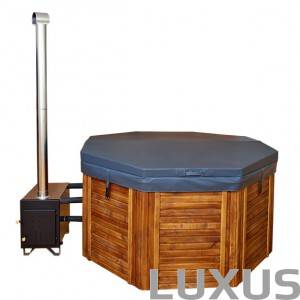 New options – Exclusive multipoints led lighting with classes holder !
Cabinet – real wood with teak tone
Isolation – available PU (polyurethane)
External square hot tube heater – aluminium boiler
◾ Effective heating of bath barrels that are up to 2.0 metres in diameter.
◾ Dimensions: size square 1 – 500 x 600 x 400mm, gross weight 35kg, heating power 20kw.
◾ Dimensions: size square 2 – 650 x 600 x 435mm, gross weight 44 kg, heating power 25kw.
◾ The furnaces can be ordered with different flow-through options: right-hand flow, left-hand flow, rear flow diameter: 50mm.
◾ The kit includes a connection set of pipes, hoses and clamps.
◾ The kit includes a modular funnel from stainless steel with a round top, height 2 metres.
Available square and round shape boiler.
Luxus square and  round shape boiler
Luxus hottub airblower
Optional – airmassage with led-lighting jets and aromatherapy !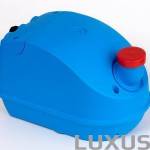 You tube home video :

You tube video – http://www.youtube.com/watch?v=fXVofbmvEO4&feature=youtu.be
You tube video – http://www.youtube.com/watch?v=0l8E4RQpWFk&feature=relmfu
Luxus hottub truck loading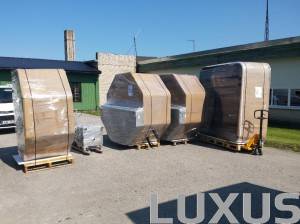 Contact : info@luxus.ee